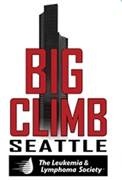 This year is the 25th anniversary for the "Big Climb of Seattle" and team Bulky Boy is ready!
Our team of 8 is ready to go this Sunday morning! At 9:45am,
"Team Bulky Boy"
will ascend up the Columbia Tower and climb 1,311 steps to benefit
The Leukemia & Lyphoma Society
.

This is our 3rd year that Bulky Boy has sponsored our team and I will have alot of pictures and videos posted on Sunday evening. The winning time last year was 7 minutes 7 seconds. INSANITY!
Aloha,
Grant Higa
Bulky Boy strongman team